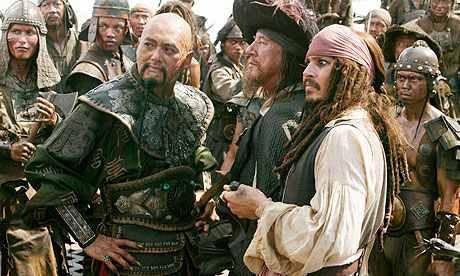 Chow Yun-fat, is a Hong Kong actor. He is best known in Asia for his collaborations with filmmaker John Woo in the heroic bloodshed genre films A Better Tomorrow, in the West for his roles as Li Mu-bai in Crouching Tiger, Hidden Dragon and Sao Feng in Pirates of the Caribbean: At World's End May 18, 1955 (age 60), Lamma Island, Hong Kong.
May 18th
BIRTHDAYS:
Margot Fonteyn, Chow Yun Fat,
Bertrand Russell
, John Paul II, Frank Capra, Nicholas II,
Matthew Brady
, Pernell Roberts,
Walter Gropius
, Reggie Jackson, Perry Como,
George Straight
.
Tina Fey
,
Fabrege
:
Values - Security - Dharma
I AM Worth
Karma:

Acquisition
ACE
of Diamonds: The Card of DESIRE for MONEY and LOVE:
The inherent passion in this card can be expressed in a variety of ways but it always seems difficult for them to have both money and love at the same time. Perhaps this is because there is not enough energy to acquire as much as they want of both. In any case we find these people striving to attain one or both most of the time. They are often loners in spite of their desire for love contact. They can be impatient and mercenary, or they can be the greatest givers. These people
are creative
and capable of working two jobs at once. They meet new people every day and much of their good fortune comes from these meetings. Romantically, they are often indecisive, or they attract others that have difficulty making decisions. They like to be away from their loved ones for periods of time. All of them are inclined to be psychic. If money or power does not take top priority in their values, they can have lives of great satisfaction and accomplishment.
Your Karma Cards are the
TWO of Diamonds
- You owe something to this person and they reflect you in some way.
ACE of Hearts
-

This person owes you

and you are their mirror in some way.
ACE
of Diamonds
BIRTHDAYS
: January 26 (Aquarius), February 24 (Pisces), March 22 (Aries), April 20 (Aries/Taurus),
May 18 (Taurus)
,
June 16 (Gemini), July 14 (Cancer), August 12 (Leo), September 10 (Virgo), October 8 (Libra), November 6 (Scorpio), December 4 (Sagittarius);
FAMOUS
ACE
of Diamonds
Elizabeth Stamatina "Tina" Fey

is an American actress, comedian, writer, and producer. She is known for her work on the NBC sketch comedy series Saturday Night Live, for her impression of former Alaska governor Sarah Palin,
May 18, 1970 (age 47), Upper Darby, PA.
FAMOUS ACE
of Diamonds:
Paul Newman,
Wayne Gretzky, Douglas MacArthur, Ellen DeGeneres
,
Eddie Van Halen, Kristin Davis, Steven Jobs, Reese Witherspoon, Carmen Electra, Adolf Hitler, Pope John Paul II, Stan Laurel, Gerald R. Ford, John Derek,
Tina Fey
, Ryan Phillippe, Matt Damon, Maria Shriver, Tyra Banks.
TAURUS April 21- May 21
George Strait
is an American singer, actor, and music producer known as the "King of Country" and one of the most influential and popular recording artists of all time. May 18, 1952 (age 65), Poteet, TX.