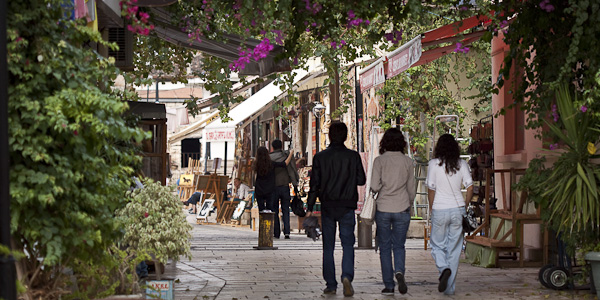 Old Town (Kaleiçi) is the must see tourist destination in Antalya, Turkey
I rejoined TOASTMASTERS in 2001 to learn how to sell RAW Goat's milk for $15/gal to the greater Houston community from our farm 50 miles away. Every other month I taught Goat Farming 101 in the city at Leisure Learning Unlimited, with the thought if you want to learn something – teach it. The class included an instructional tour of our farm and Grade 'A' Raw Dairy. On alternate months I added Cheese-Making 101. My fellow Toastmasters and students were convinced of the benefits of consuming raw dairy, especially fresh Feta, Chevre and kefir. However, they were far less enthused about trekking out to the country to buy our product.
Only yuppie couples and alternative health fanatics would make the journey and more often than not, only on a sunny weekend afternoon. Therefore, on the farm sales of www.analagoatcompany.com amounted to $200/week, while our feed bill for 100 goats, mortgage, and labor costs came to $1,500. Being on the wrong side of the supply/demand curve meant 120 half gallons staring at us from the freezer.
Nina Planck, the farmer's daughter at age nine learning how to sell.
What were the ever so smart CPA Systems Analyst – MBA Architect couple supposed to do?TOASTMASTERS didn't have an answer for that but a farmer's daughter named Nina Planck http://ninaplanck.com/ did. Her family farm in Louden, Virginia sold their organic produce at 17 Farmers' Markets a week in the Metro DC area, grossing $375,000 annually. Their biggest expense was $100,000 in labor. Math whizz me, divided $375,000 by 17 and came up with an average of $500 per market. Nina's advice was "You gotta go where the customers are."
teg talking with #57 one of Shelby's registered Saanen kids.
Desperate Shelby the CPA, teg the MBA, and Ken the CBOT (Chicago Board of Trade) Mechanical Engineer soon began selling at Houston farmers' markets on Tuesday, Wednesday, Thursday, Saturday and Sunday, for a total of eight a week. Just like Nina Planck's experience we averaged $500/market. The goats were happy, the customers were happy and the bank was happy.
Monday evening Middle Kingdom Toastmasters club meeting at the Sofitel Hotel in Zhengzhou, China.
I want to rejoin TOASTMASTERS again in my retirement home of Antalya, Turkey, for purely selfish socialization purposes. Seven years in non-English speaking China taught me the value of communicating with like-minded individuals in a foreign land. In the U.S. my network of friends came easily from fellow organic foods producers, customers and of course the common language of English, with Texas characteristics. Middle Kingdom Toastmasters in Zhengzhou offered me the opportunity to speak and work with Chinese people in English. While, Turkish is lot easier to learn than Chinese, primarily because it uses the Latin alphabet, at age 71, I'm never going to get past hello, thank you and goodbye.
St Paul Cultural Center is the nexus for English speaking people in Antalya located in the must see tourist destination, Old Town (Kaleiçi).
There is one Toastmasters club in Antalya, four in Istanbul and two in Ankara. The Antalya Toastmasters club was chartered a year ago as a Turkish speaking club. I want to flood the membership with resident expats and English speaking natives. St. Paul's Cultural Center is where the customers are. Every tourist to Antalya visits Old Town and every native English speaking tourist stops in St. Paul's because it is in the heart of Old Town and they speak ENGLISH.
The facilities are perfect for socialization with meeting rooms, cafe, library lounge, spacious patio and retail opening hours. In addition they hold a conversational English group Monday through Thursday evenings. The church holds Sunday services in English and Turkish. St. Paul acts as an outreach for the wave of immigrants from Syria and beyond.
St Paul Cultural Center is definitely where the customers are in Antalya and that's where I want Toastmasters to be. tegory66@gmail.com